---
Through a refuse and recycling service agreement with the Village of Glendale Heights and Republic Services, residents are offered a convenient method of collecting and placing their recycling items at the curbside for pick-up services. A wheeled, 65lb recycling cart/tote (smaller sizes are available upon request from Republic Services), will be included as part of the resident's service from Republic Services.
What items are collected by Republic Services for recycling?
The Village and Republic Services have compiled a list of accepted paper, plastic, metal and glass items. There is no need to separate the items; they may all go in to the same container. New technology available on the recycling trucks allows for it to separates the paper from other recyclables. All recyclable materials should be rinsed free of food with caps and or lids removed. Do not place recyclable materials in plastic bags. Flatten all corrugated cardboard boxes, paperboard and wet strength carrier stock and remove any non-paper packaging material or packing peanuts. For more information, visit www.recyclingsimplified.com. If you have any further questions concerning refuse and recycling services, please call Republic Services at 847.981.0091, or you may visit their website at www.republicservices.com.
Yard Waste Items
Yard waste is collected from April 1 to November 30 during regular or holiday collection services at the curbside by Republic Services.
Yard waste consists of grass clippings, twigs, leaves, plant materials, brush, etc. Residents are reminded not to rake leaves in the street - leaves can accumulate over the sewer drains preventing proper water drainage.
Yard waste may be placed in waterproof 33-gallon containers with handles and tight fitting covers weighing no more than 60lbs when full. Yard waste may also be placed in 33-gallon paper yard waste bags available from local retailers. If a container or can is used, it must be clearly marked "For Yard Waste Only." Plastic Bags may NOT be used for yard waste.
Brush must be bundled with biodegradable rope or twine and not be longer than 4 feet in length. The largest branch must be no more than 4 inches in diameter and each bundle must weigh no more than 60lbs. Do NOT use wire or plastic to bind or bundle brush. Sod is NOT considered yard waste; it is garbage/refuse.
Appliances & Other Bulk Items
Please call Republic Services to make pick-up arrangements for appliances and furniture from the curbside. Some stoves and refrigerators are extremely bulky or overweight and may contain CFC gases, capacitors, and other components that are hazardous to the environment. These items will need to be picked-up through Special Collections; fee applies.
Construction Debris
Construction and demolition debris which will not fit in a container, and is of excessive weight or amount will not be collected. Please make prearrangements (at least one day before a scheduled pick up) with Republic Services for a special pick up; fee applies.
If you have any questions regarding recycling requirements and services, please call Republic Services Customer Service Line 847.981.0091.
Latex Paint
Latex paint is not a toxic or hazardous material and can be disposed of in your weekly refuse pickup. To dispose of latex paint, it must first be dried to a hardened state. To do this, you may leave the lid off or add cat litter or other absorbent agent. Once the paint has been thoroughly dried, place the can in front of your regular refuse container with the lid off so the driver can tell the paint is dry.
DuPage County has a latex paint recycling program. Residents can drop off their usable, unwanted latex paint during the designated summer collections, free of charge. Usable paint is paint that has not been frozen, is less than 10 years in age and has not been mixed with other products. You may get more information on the DuPage County Latex Paint Recycling Program by downloading their flyer.
While Republic Services can collect many household items for recycling, there are several items than can not be collected as part of your weekly refuse service.
Electronic Equipment
It is illegal in Illinois to dispose of electronic equipment in your weekly refuse pickup due to the possibility of containing toxic elements within the various components.
The Village of Glendale Heights is continuously looking for programs to help residents recycle their electronic equipment.
For more information on how and where to recycle your electronics, please visit the DuPage County Recycling website.
Cellular Phones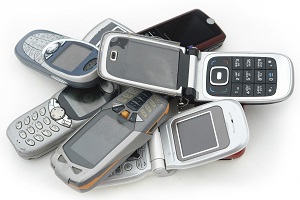 Do you have a cellular phone that is no longer used or wanted? Don't throw it in the trash; recycle it by donating it a charitable organization.
The Police department and the Center for Senior Citizens also accept donations of unwanted cell phones and their necessary accessories for use by seniors and other individuals residing in Glendale Heights who have an emergency purpose.
Expired or Unused Medications
The residents of Glendale Heights can now dispose of expired or unused medications by dropping them off in a permanent drop box located in the lobby at Village Hall.
The permanent RxBOX drop box is available to the public during normal business hours. There is no charge to residents to drop off your medications. The Village's pharmaceutical disposal program is intended to help reduce the potential for misuse of medications. The program helps to reduce safety concerns that may occur with accidental ingestion of medication by children in a household and is one way to help address the growing issue of prescription drug abuse by teens. The program is also intended to reduce pharmaceutical threats to our water supplies or waterways after disposal.
Batteries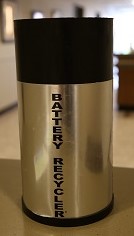 Don't throw out used batteries in the trash; recycle it! Did you know that batteries contain potentially hazardous elements and metals such as zinc, nickel-cadmium, nickel metal hydride, and lithium that cause unnecessary heavy metal contamination to the planet?
The Village of Glendale Heights collects batteries at the Sports Hub and Civic Center Plaza counters.
Fluorescent Lightbulbs
CFL bulbs contain mercury and they must be disposed of properly. You may drop off your used CFL bulbs for recycling at the most Home Depot locations, or visit Earth 9-1-1 for more recycling locations.
Oil Based Paint, Paint Thinners, Stain and Varnish
Oil based paints, stains and thinners are toxic. Through a program funded by the Illinois Environmental Protection Agency, residents may drop-off unwanted oil based paint at the Household Hazardous Waste Facility, located at 156 Fort Hill Drive, in Naperville. This is a drive through, drop-off facility open Sat/Sun 9:00am-2:00pm; except on holidays. For more information, visit the Household Hazardous Waste Facility website or call 630.420.6095. You may also visit the Illinois EPA website for additional information.