---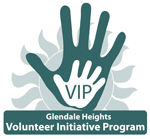 Volunteers have long been an invaluable resource to our community, and every minute of their dedication counts! However, changing workforce demographics and busy schedules requires a change in the way we think about volunteerism. The Mayor's office launched a Volunteer Initiative Program (VIP) to revamp our connections with community volunteers and promote new ways of enhancing the volunteer experience for all ages. The goal of the VIP is to provide varied and flexible opportunities designed with the busy household in mind.
Whether you are interested in giving an hour or seeking a long-term volunteer experience, we will work closely with you to find a match to your interests. To get started, download the VIP Volunteer Interest Form, and once completed, please email the form to Human Resources.
If you have any questions, or would like more information please contact Human Resources at 630.909.5357.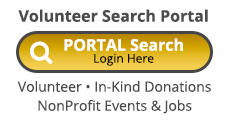 Giving DuPage is a non-profit organization, whose mission is to promote giving and volunteering in DuPage County. As a public-private partner of DuPage County, Giving DuPage connects residents, students, community groups and businesses with local volunteer opportunities.
Volunteers can learn about over 300 non-profit organizations and over 700 local service opportunities at the Giving DuPage Volunteer Opportunity Portal.
Volunteer opportunities are available at UChicago Medicine AdventHealth GlenOaks.
Volunteer opportunities are available with the DuPage Senior Citizens Council (DSCC).
---
The Glen Ellyn Children's Resource Center helps children from low-income families acquire the necessary skills in academics and social interaction to move successfully through grades K-12 and into adulthood. They are expanding to Churhull Elementary School and the majority of the students they will be serving will be from Glendale Heights. They are looking for dedicated volunteers to tutor GECRC students one-on-one. These students are ready to learn and you can make an impact in a very profound way. Please visit the GECRC website to learn more about us and to sign up.
---
DuPage Basket Brigade is a chapter of the International Basket Brigade. The International Basket Brigade is built on a simple notion: one small act of generosity on the part of one caring person can transform the lives of hundreds. DuPage Basket Brigade helps families and homeless persons in the DuPage County area. The goal is to supply baskets/bags of food on holidays throughout the year. We do this by generating donations of monies, food and household item from individuals and businesses. To learn more or to get involved, please visit: www.dupagehealth.org/giving.
---
There are more than 65,500 people in DuPage County who don't know where their next meal is coming from. Many are 'on the bubble' having to choose between paying the rent or feeding their families.
Neighborhood Food Pantries' locally operated pantries allow us to serve our guests in their neighborhood, close to where they live. Our pantry coordinators and volunteers get to know our guests, providing a personal touch and creating a sense of community. Oftentimes we fill a one-time need for a family - allowing them to fix a car or cover unexpected medical expenses and still put food on the table. A number of our pantry guests return to our pantries to volunteer - giving back to those who support them.
We have pantries located throughout Northwest DuPage County, each of which have different hours and volunteer needs. Our location at Family in Faith Christian Church, Glendale Heights (1480 Bloomingdale Road) is currently seeking volunteers at the following times:
Wednesdays: Pantry Assistants needed 2:30am - 7:00pm
Saturdays: Pantry Assistants needed 8:30am -1:00pm
1st Friday of each month: 8:30am - 11:00am
To sign up or for more information, please contact Annette Busch at 630.653.5030 or by email, or by visiting the Neighborhood Food Panties' website.
---
Change Someone's Future
Bridge the language gap by tutoring an adult in English! As a volunteer tutor, you will teach an adult to communicate so that they can do what most of us take for granted: make doctor appointments, speak with their children's teachers, and so many other essential everyday tasks. As a Literacy DuPage tutor, you will join a family of over 300 volunteers, who create lesson plans, share ideas, and forge friendships while strengthening our community's ability to reach those who are motivated to enhance their English language skills. You will find yourself in a rewarding place: empowering adults with the life-changing benefits of literacy.
Volunteers Needed
If you wish to become a part of this critical work, attend a virtual New Tutor Training (upcoming session dates and times below). At training we will explain what it takes to be a tutor (in short, no prior experience - just a genuine desire to help), and provide you with the materials, and techniques needed help adults break through language barriers and experience a whole new world of communication and connection - right here in DuPage County.
Before attending New Tutor Training, you must attend a 60-minute Meet & Greet session. Visit our website www.literacydupage.org or call us at 331.472.7160 to learn more and register for training!