---
The Senior Citizens Advisory Committee serves as an advisory committee that is be dedicated to identifying the growing needs of our senior population and help to establish comprehensive services to meet those needs and improve the quality of life to our seniors now and into the future.
2022 Committee Members:
Trustee Mary Schroeder
Trustee Pat Maritato
Jennifer Alagna
Leona Breede
Lavonna Hawkins
Joan Kernan
JoAnne Soo
Joe Toma
Patti Pauling

There are many volunteer opportunities at the Center for Senior Citizens. Contact Jennifer Alagna, Senior Services Manager at 630.260.6050 for more information.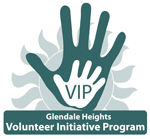 Volunteers have been an invaluable resource to the Village of Glendale Heights. The Mayor's office has launched the Volunteer Initiative Program (VIP) to re-connect with community volunteers and promote new ways of enhancing the volunteer experience for all ages.
To find out what volunteer opportunities are available within the Village, check out the VIP page to get information on this exciting program!